The Reno-Tahoe Area is Changing Their Brand
Written By: Farah Vitale
The Reno-Tahoe area is updating their brand! As we know, Reno is continuing to progress and now holds a totally new perspective from residents. The new brand is: Ambition. Grit. Adventure. These themes were as part of "The Great Contrast" representing more millennials in the area. They see them as sort of adrenaline junkies that want something new and different all the time. The Reno-Sparks Convention and Visitors Authority are funding the $4.4 million campaign. The tourism officials also hope it will drive more young people to move here.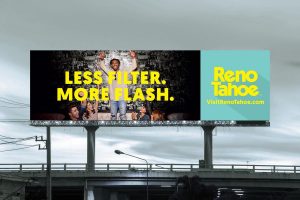 The brand contrasts the outdoor beauty of Lake Tahoe and the urban core of Reno.
There was debate on whether or not they should use the word "grit" as it can have a negative connotation. But Mayor Schieve said that they kept it because they want to embrace the gritty part of Reno, that some people like. They still want to improve Reno but the grittiness of where it started is part of the diversity we have now and the reason we were able to grow from it.
The campaign is using art and photography along with work from local muralist, Joe C. Rock. He's lived in the area for more than 20 years. He is eager to help Reno's art scene get more recognition. For the marketing plan, there will be billboards, digital ads, and radio and television spots ready to begin running in the Bay Area, Los Angeles and Seattle this year.
---
Follow Parc Forêt on Facebook, Twitter, Pinterest and Instagram. Stay up to date on all things outdoors, as well as Montrêux events and the Reno-Tahoe area!
For real estate inquiries, stop by the beautiful Montrêux Welcome Center at 16475 Bordeaux Dr.  or call us at 775.849.9444. The Welcome Center is open 7 days a week, from 9:00 am – 5:00 pm.