Reno Mural Honors Organ Donors
Written By: Farah Vitale
On Friday, a small crowd gathered to dedicate a very special mural to a woman named Dori Barmettler. She lost her 15-year-old daughter Makayla to a car accident two and a half years ago. Barmettler ended up making one of the hardest decisions a mother can make. She donated her daughter's organs. So by doing that, she ended up saving seven other people's lives. A mural was painted to mark the people that went through tradedy and still helped prevent more.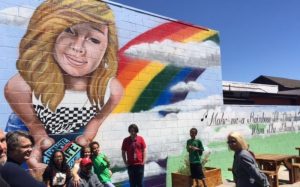 The mural is Makayla and eight other donors who saved lives with theirs, all heroes.
Barmettler says her daughter would have approved her choice to donate the organs. She said Makayla was just a young girl who loved life and everyone a part of it. Barmettler feels forever connected to the seven families of the lives she helped saved. During the dedication ceremony on Friday, there were those who received life-saving donations in the crowd. One named Tammy Nichols was in the late stages of liver failure when she received 6-year-old Nathan Lewis' liver. She was able to celebrate mother's day thanks to Nathan, who would have just turned 12 years old.
The artist has left room on the mural for more donors, as they are sure there will be over time. They want to commemorate the families choices to save lives in by making the most painful decision and time in their lives. It celebrates the heroes on the wall, so they are never forgotten.
---
Follow Parc Forêt on Facebook, Twitter, Pinterest and Instagram. Stay up to date on all things outdoors, as well as Montrêux events and the Reno-Tahoe area!
For real estate inquiries, stop by the beautiful Montrêux Welcome Center at 16475 Bordeaux Dr.  or call us at 775.849.9444. The Welcome Center is open 7 days a week, from 9:00 am – 5:00 pm.