What to do this Weekend: The Great Balloon Race
The Great Balloon Race
Up, up, and away! The Great Balloon Race returns to Reno for its three-day event on September 5th through the 8th. Experience the Glow show, browse the food and souvenir vendors, meet the Reno community, and even take a ride in one of the balloons! This spectacular event attracts over 120,000 spectators each race and is free to all who wish to attend.
During the three day Balloon Race, there will be a series of events that take place. These eye-catching and exciting events include the Glow Shows, the Mass Launch, and the Balloon Boulevard. The Glow is a dazzling light display put on by the hot air balloons getting ready for the day's launch. This phenomenon takes place just before dawn so grab a cup of coffee and some blankets in preparation for the show.
For more information on the events held at the Great Balloon Race click here.
Hot air balloons prepare for the day's race in the Glow Show
78 hot air balloons will make their debut at the 2019 Great Balloon Race. Click here for a full list of all the pilots and their balloons in the 2019 race!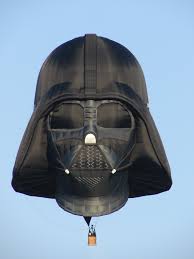 The Darth Vader Balloon
Piloted by Benoit Lambert, the Darth Vader Balloon made its first appearance at the Great Balloon Race in 2011. This custom made hot air balloon is once again joining the 2019 Great Balloon Race. Whenever the Darth Vader Balloon returns to Reno from its world tour, it is greeted by an army of spectators dressed up as stormtroopers. You do not want to miss this historic hot air balloon!
Save the date and join the Great Reno Balloon Race this year! For information about parking and other accommodations click here.
Written By: Connor Olejnik
All photos are courtesy of the Great Reno Balloon Race.
---
Follow Parc Forêt on Facebook, Twitter, Pinterest and Instagram. Stay up to date on all things outdoors, as well as Montrêux events and the Reno-Tahoe area!
For real estate inquiries, stop by the beautiful Montrêux Welcome Center at 16475 Bordeaux Dr. or call us at 775.849.9444. The Welcome Center is open 7 days a week, from 9:00 am – 5:00