The Reno Arch is Getting a New Look
Written By: Farah Vitale
On Dec.13th, the Reno City Council voted to change the Reno Arch's colors. The vote was four to three to change the arch color to silver and blue and replace the gold legs with a stainless brushed silver. The gold legs were easily damaged and it was hard to maintain. The City Council believes the arch is worn and outdated. It is in need of a makeover to resemble the other renovations being made downtown.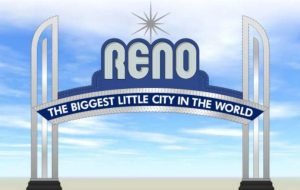 Blue was chosen for the new color in correlation with the University of Nevada.
The city has been working on tying the University of Nevada campus with downtown Reno, as the city has been disconnected for awhile. A few thousand people voted for the new look of the arch to connect both parts of town. Creating the changes will cost more than $225,000. That money will come from funds set aside for tourism. The Reno Arch's new colors should be done by March of 2018. The Reno City council is also looking into creative funding sources for color-changeable lights on the arch. That is expected to cost $220,000 to replace the neon lights but they don't have the money at this time.
The very first Reno Arch was built in 1926 and did not contain the words "Biggest Little City" until years later. So far, the arch has undergone 5 transformations.
---
Follow Parc Forêt on Facebook, Twitter, Pinterest and Instagram. Stay up to date on all things outdoors, as well as Montrêux events and the Reno-Tahoe area!
For real estate inquiries, stop by the beautiful Montrêux Welcome Center at 16475 Bordeaux Dr.  or call us at 775.849.9444. The Welcome Center is open 7 days a week, from 9:00 am – 5:00 pm.