Add Color to Your Home Decor For the Holidays
Written By: Farah Vitale
What's the key to decorating your home this holiday season? A wide range of color. The holiday season consists of red and green but there's a whole array of colors that have been trending over the past few years. This year blush and rose gold are on trend stemming from millennial pink, even in Christmas trees!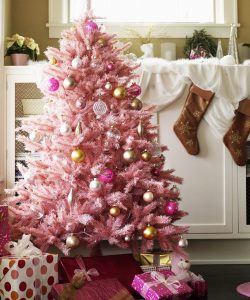 Colorful ornaments and decorations are essential for pushing more creativity in your home.
Interior designer Tobi Fairley, who has a home in Little Rock featured in Traditional Home, is experienced in using color in her holiday home designing. As red and green can clash with the original design of your home, you should pick other colors to enhance it. She advises taking away some of your current decorations and replacing them with your Christmas ones.
A lot of people haven't realized there are many colors you can choose from for the holiday season. Blue is another one being used frequently, but there's a trend for warmer colors ranging from brown, gold and millennial pink. They are influencing a new palette of colors. It's also a good idea to combine colors such as eucalyptus, sage and aquas.
Also this season, retro is in! Adding metallic finishes, glitter and mercury glass are all perfect for blending with the colors in your home.
---
Follow Parc Forêt on Facebook, Twitter, Pinterest and Instagram. Stay up to date on all things outdoors, as well as Montrêux events and the Reno-Tahoe area!
For real estate inquiries, stop by the beautiful Montrêux Welcome Center at 16475 Bordeaux Dr.  or call us at 775.849.9444. The Welcome Center is open 7 days a week, from 9:00 am – 5:00