Put Snoweshoeing on Your To-Do List
Written By: Farah Vitale
If you haven't already tried snowshoeing, this winter is the perfect time. Snowshoeing is a much easier sport and doesn't require the skill like other snow sports, just bend your knees! It's perfect for exploring terrains you wouldn't usually be able to.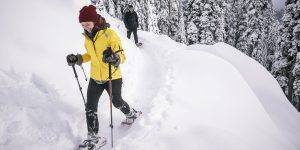 1 Camp Richardson
This is a very popular spot for tourists and favorite ski spot for Tahoe locals. You can rent out the snowshoes and venture through 10 kilometers of trails. The views are amazing and there are also lessons available. The snowshoe rentals are $15 for a half day and $19 for a full day for adults. For children it's $12 for a full day and $9 for a half day rental. You can also enjoy Beacon Bar & Grill nearby for great food and drinks.
2 Northstar California Resort
You can rent snowshoes at the Cross Country, Telemark & Snowshoe Center, located at Mid-Mountain. Northstar has 65 kilometers 65 kilometers of  scenic cross-country trails to explore. There's also trails to cater to different ability levels and "wilderness warming huts" with hot chocolate and tea. For adult rentals is $34 for the day and $33 for kids.
3 Sierra-at-Tahoe
You can rent snowshoes at Blizzard Mountain, located adjacent to the E Parking Lot. Go ahead and wander through three miles of groomed snowshoe trails. Enjoy the breath-taking scenic view and read the signs along the trials about wild-life in the Sierra Nevada. For snowshoe rentals it's $27 for the entire day.
---
Follow Parc Forêt on Facebook, Twitter, Pinterest and Instagram. Stay up to date on all things outdoors, as well as Montrêux events and the Reno-Tahoe area!
For real estate inquiries, stop by the beautiful Montrêux Welcome Center at 16475 Bordeaux Dr.  or call us at 775.849.9444. The Welcome Center is open 7 days a week, from 9:00 am – 5:00 pm.