Nevada Rural Housing Authority Wins National Award, Third Year in a Row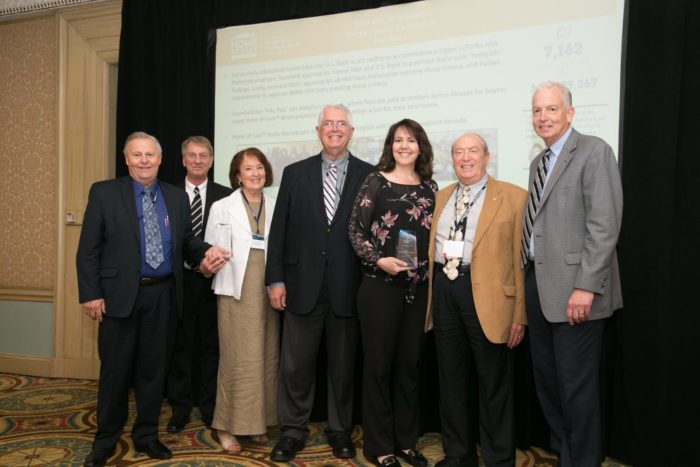 Members of the Nevada Rural Housing Authority (NRHA) accepting the Single-Family Excellence award for the third year in a row.
The Nevada Rural Housing Authority has won the Single-Family Excellence Award
The Single-Family Excellence award in recognition of the Home At Last program, has been awarded to the Nevada Rural Housing Authority (NRHA) – yet again. This year's recognition was presented by the National Association of Local Housing Finance Agencies (NALHFA) at its Annual 2018 Conference. The NRHA has also been recognized twice for its work supporting home buyers in rural Nevada.
The NRHA has facilitated the various Home At Last Homeownership programs since 2006. The program is a national leader in providing solutions to allow low to moderate-income families achieve home ownership. Their programs range from down payment assistance to mortgage tax credits. As the Reno-Tahoe area has experienced a large influx of new residents and spike in housing costs, the NRHA has designed these programs to significantly help home buyers, lenders, and real estate agents.
For more information regarding the NRHA's Home At Last programs, visit HomeAtLastNV.org.
The Nevada Rural Housing Authority
The NRHA's goal is to "[enhance] the quality of life in rural Nevada". Their various programs work with independent communities to build and sustain such. Primary work for the NRHA are assessed within Nevada's fifteen rural counties and portions in Clark and Washoe counties – servicing over 1.3 million people.
For more information, visit nvrural.org.
Written by: Brooke Deneen
---
Follow Parc Forêt on Facebook, Twitter, Pinterest and Instagram. Stay up to date on all things outdoors, as well as Montrêux events and the Reno-Tahoe area!
For real estate inquiries, stop by the beautiful Montrêux Welcome Center at 16475 Bordeaux Dr.  or call us at 775.849.9444. The Welcome Center is open 7 days a week, from 9:00 am – 5:00