Start to Winterize Your Home
Written By: Farah Vitale
It's time to start preparing your home for the winter!  Winterizing your home will help keep your house cozy and help prevent damage from the cold weather and ice. It will also help reduce your heating bills. A win-win.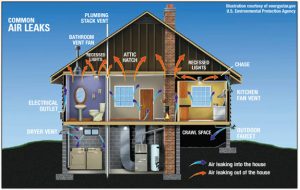 First step is to winterize your gas furnace.
Make sure the area around your furnace is clear and nothing has been stored near it. Then check the vents and air returns to make sure they are clean and nothing is blocking them. Changing the air filter when needed is also important. Be sure to use the furnace manufacturer's recommended schedule to change them. Next, update your thermostat's programming for your winter schedule. If it's programmed correctly, it can reduce energy bills up to $180 a year. Also, remember that the cold weather effects your furnace, get it checked out and see if you may need to replace it for the winter months.
Next thing to do is protect your windows and doors so there are no air leaks, drafts and heat loss.
There are a couple ways to do this, including replace damaged or worn out weather stripping on doors and windows. You can install storm windows to get rid of any drafts or use draft dodgers and insulation kits.
Start taking care of your pipes and water sources.
The cold weather brings a lot of possible damage including bursting pipe lines. No one wants water damage in their house, so it's important to take precautions and winterize this coming season. Make sure to insulate pipes that carry hot water. It will increase the water temperature a few degrees letting you set the water heater lower to save energy. Check the attic and basements of your home and insulate them before winter arrives.
It's also important to flush out your water heater which will help remove particles collected inside and help it run smoothly. It's a good idea to hire a professional for certain tasks. This includes having your outdoor water irrigation systems drained to prevent freezing.
The Insulation Institute offers an online guide to help you understand how much insulation you need.
---
Follow Parc Forêt on Facebook, Twitter, Pinterest and Instagram. Stay up to date on all things outdoors, as well as Montrêux events and the Reno-Tahoe area!
For real estate inquiries, stop by the beautiful Montrêux Welcome Center at 16475 Bordeaux Dr.  or call us at 775.849.9444. The Welcome Center is open 7 days a week, from 9:00 am – 5:00