The Food Banks Need Your Help
Written By: Farah Vitale
The Food Bank of Northern Nevada and other local food banks have seen a decrease in donations recently. The holidays are coming soon and they need more people to donate.  St. Vincent's Food Pantry, which is run by Catholic Charities of Northern Nevada, is also struggling. They are disheartened by the recent decline and noticed more families are asking for help.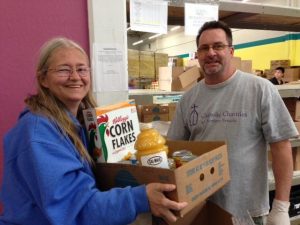 Donations have dropped by 60% over the past three years for Catholic Charities of Northern Nevada.
And of course, the need for food and help is increasing. Catholic Charities reported seeing a need go up from 20 to 25 percent. They reported serving about 12,000 people a month out of the pantry a year and a half ago. That number is now around 15 to 16,000 a month. The Food Bank of Northern Nevada has seen a similar decline in donations and increase in need. People are under the impression that less people are in need since the recovery from the recession.
A big part of this problem for people in need is the rising cost of housing. Since rent has been steadily increasing, families have less money to buy food. They've also noticed that the elderly and the disabled are the majority of this population. Many would not have food without the donations. The food banks need your help, especially for the holiday season. Please donate any pantry items, canned fruits and vegetables and instant potatoes and gravy to help those in need. The banks are also always looking for volunteers, so always feel free to come help.
---
Follow Parc Forêt on Facebook, Twitter, Pinterest and Instagram. Stay up to date on all things outdoors, as well as Montrêux events and the Reno-Tahoe area!
For real estate inquiries, stop by the beautiful Montrêux Welcome Center at 16475 Bordeaux Dr.  or call us at 775.849.9444. The Welcome Center is open 7 days a week, from 9:00 am – 5:00