Mt. Rose Ski Resort is Open Thanks to Snow Machines
Written By: Farah Vitale
Mt. Rose is the first ski resort to open this season and it's all thanks to the help of snow machines! It only costs $20 for adults and $10 for kids 15 and under. The kickoff ran both Friday and Saturday from 8 a.m. to noon. Right now most of the snow is man-made and was created during a temperature drop below 32 degrees in early October.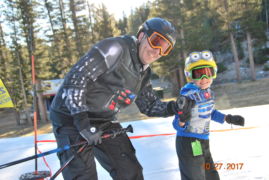 Mt. Rose has 26 snow making machines total and 13 are already in the ground and fully automatic.
The placement of the snow makers are very important. The fixed snow machines are placed in locations where they will be running at all times. So the other half of the machines are mobile. Since skiers need to get around the base of the mountain, they start by putting the snow machines at the bottom. Then they choose traffic areas where the wind blows. This allows the skiers to have a successful ride down the slope.
How does a snow machine work? The temperature needs to be below 32 degrees for a minimum of four hours. There also needs to be low humidity. If the weather is colder, more valves can be opened. Once the water goes through the nozzle, they become very fine molecules. A fan blows the molecules into the air and creates snow. These machines allow people to enjoy skiing without worrying about whether enough snow has fallen.
---
Follow Parc Forêt on Facebook, Twitter, Pinterest and Instagram. Stay up to date on all things outdoors, as well as Montrêux events and the Reno-Tahoe area!
For real estate inquiries, stop by the beautiful Montrêux Welcome Center at 16475 Bordeaux Dr.  or call us at 775.849.9444. The Welcome Center is open 7 days a week, from 9:00 am – 5:00