The World's First Eco-District Comes to Reno
Written By: Farah Vitale
Architects are working on the initial phases of the world's first high desert biome eco-district, West 2nd District. It's a new 1.2 billion purpose built neighborhood in the heart of Downtown Reno. Developers, Don J Clark Group and landscape architects Office of Cheryl Barton (OCB) are currently working on the project. They are planing on taking over a bunch of underused lots in to start on an ecologically driven neighborhood. It would have 1,900 housing units and be 450,000 square feet of office space, and 250,000 square feet of retail space. Twenty percent of the rental units will be available for affordable housing. Along with that, the nearly 30-building district will provide needed market-rate and workforce housing as well.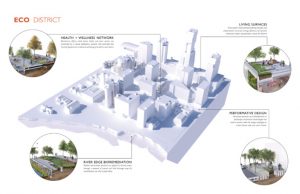 The goal is to connect Reno to nature more efficiently with an eco-district.
The construction of a new district will be bounded along its southern edge by the Truckee River. SO OCB will start to plant over 300 trees across the 17-acre site. They want to establish and expand walking comfort for pedestrians on the street by reducing heat-island effect. They will also embed expanses of gardens throughout the plan and on rooftops. So there will be broad, shallow channels put in the walkways that can be used for patio seating and can collect water when it rains.
Stormwater sequestration and wastewater treatment will be factored into the project. They will also use a variety of digital tools to monitor and control the adaptive systems. OCB also wants West 2nd to help  Reno's booming tech growth. More than just an eco-district they also want to pursue LEED accreditation while focusing on walkable communities and complete streets. So they want this to be a next-generation city.
---
Follow Parc Forêt on Facebook, Twitter, Pinterest and Instagram. Stay up to date on all things outdoors, as well as Montrêux events and the Reno-Tahoe area!
For real estate inquiries, stop by the beautiful Montrêux Welcome Center at 16475 Bordeaux Dr.  or call us at 775.849.9444. The Welcome Center is open 7 days a week, from 9:00 am – 5:00 pm.