Cash Sales Prevail in Red Hot Reno Housing Market
On June 8, the Reno-Sparks Association of Realtors (RSAR) released its May 2021 housing report, which highlighted a $550,000 median sales price for existing single-family homes. From May 2020, this is a significant 37.5% increase. May was also the first month that Reno-Sparks has surpassed the $500,000 median home price mark.
The increases come hand in hand with decreases in both active inventory and days to contract, the latter which is now holding tight at just 14 days and a huge 23.8% decrease from April. More buyers are now making all-cash offers for homes, creating this challenging combination. Buyers who rely on traditional mortgage financing are in a bind to make sure their offers are competitive.
"The inventory of homes for sale continued to tighten during May," Gary MacDonald, RSAR president, said in a statement. "The active inventory at the end of the month declined by 13% and stood at 300 homes — well under a month's supply at the current pace of sales."
These all-cash buyers are coming to Reno from many walks of life and Northern Nevada has always been a great area for retirees and its attractive lifestyle, and now the job opportunities are reflective of how great the area is. Many are coming from out of state, with the majority from neighboring California.
Offers in cash are hard for home sellers to turn down – there is no appraisal needed, the uncertainty of obtaining loan disappears, and close of escrow can happen much sooner. Cash sales can close in as little as a week, whereas home purchases with a loan can take a minimum of 30 days.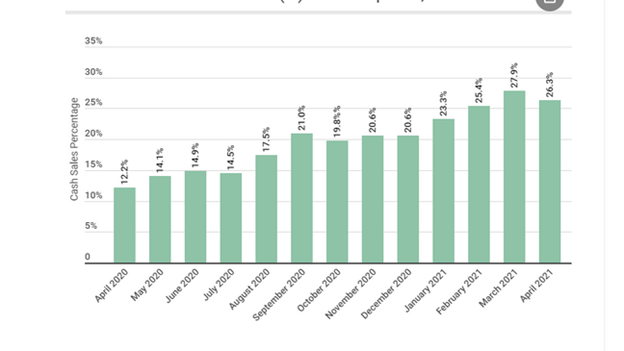 Percentage of all-cash home purchases since April 2020 (Courtesy of the RenoRealtyBlog.com)
It's not just greater Reno/Sparks that's seeing increased home prices.
RSAR also covers the Fernley market. There, the median home price for May 2021 came in at a record-high $352,500, an increase of 40% from May 2020 and up 6.8% from April 2021. In all, 49 homes were sold in Fernley last month — up 53.1% from May 2020 and down 9.3% from April 2021.
Branching out in Northern Nevada, following are median sold prices reported in May 2021 by the Sierra Nevada Realtors association for other main markets:
Carson City: $455,000, up 8.4% from April 2021
Fallon: $275,000, down 7.9%
Gardnerville/Minden/Topaz: $560,000, up 6.4%
Lyon County: $389,500, up 3.9%
Lake Tahoe, East Shore: $1.16 million, down 31.6% (12 total homes sold in May)
Meanwhile, in Incline Village, the median home price was $1.8 million in May, when 12 homes were sold, according to the Incline Village Realtors group. It's a considerable decrease from April's median price of $2.73 million (comprised of 16 home sales).
Below are some other highlights from the May 2021 report:
Reno/Sparks recorded 535 single-family home sales, an increase of 32.4% from last year and an 8.1% decrease from April 2021.
Of that total, 368 sales occurred in Reno/North Valleys — up 29.1% from last year and down 12.6% from the previous month.
The other 167 home sales occurred in Sparks/Spanish Springs — up 40.3% from last year and up 3.7% from April 2021.
The median sales price of an existing condominium/townhome in Reno/Sparks was $315,000, up 16.7% from last year. In Reno, the median was $317,450, up 17.6% from last year, while the median in Sparks was $297,000, up 3.5% from a year ago.
Another great perk for all the folks relocating is that Nevada residents enjoy no personal income tax, low property taxes, no corporate income tax, no tax on corporate shares issued while living in Nevada, no tax on sale or transfer of shares, and no inheritance tax. If these individual tax breaks aren't convincing enough, there are even more tax break incentives for business owners looking to relocate! The Governor's Office of Economic Development of the State of Nevada offers such incentives from sales tax abatement to modified business tax abatement, and even outside the realm of taxes. Incentives carry over into employee hiring and training as well.
As you are on the hunt for a home, keep in mind the beautifully forested community of Montrêux Golf & Country Club, a private gated golf course community with so much more to offer than golf. This gated community of luxury custom homes surround the 18-hole, Jack Nicklaus Signature par 72 course, a world-class Clubhouse, walking trails, tennis and sport courts, pool and spas, Fitness Center, and much more. Parc Foret is still offering available homesites and resale homes within the gates – contact us today to see what's on the market.
---
Written by Jackie Latragna
Follow Parc Forêt on Facebook, Twitter, Pinterest and Instagram. Stay up to date on all things outdoors, as well as Montrêux events and the Reno-Tahoe area!
For real estate inquiries, stop by the beautiful Montrêux Welcome Center at 16475 Bordeaux Dr. or call us at 775.849.9444. The Welcome Center is open 7 days a week, from 9:00 am – 5:00.