Reno Named the Happiest Place to Live in US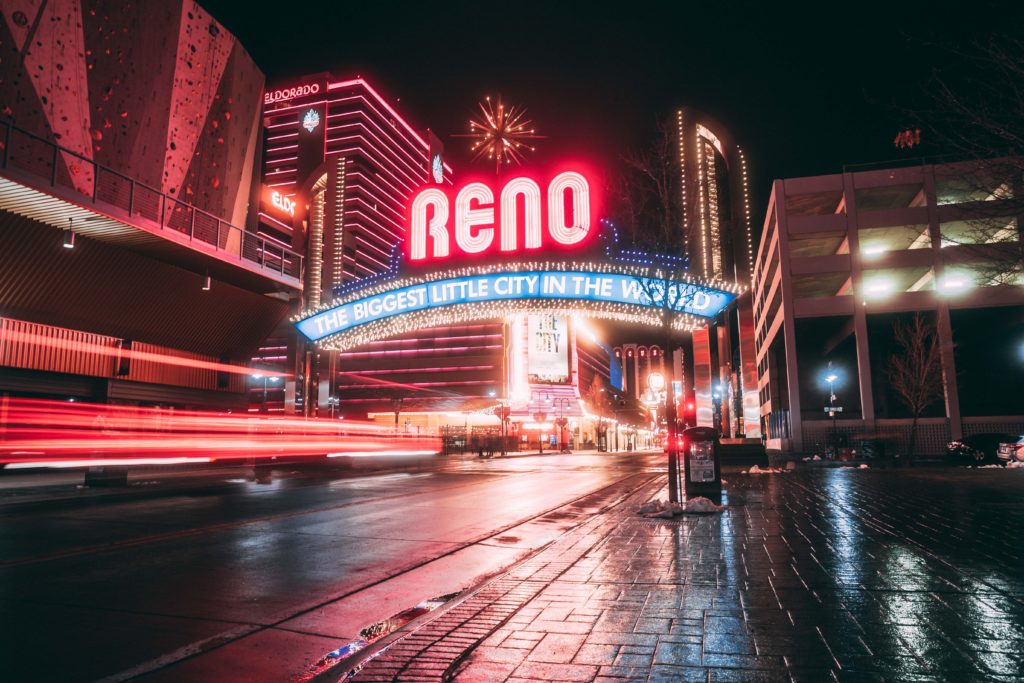 Outside Magazine recently named Reno, Nevada as one of the 15 happiest place to live in America.
The Nevada city was described as a modern boomtown, highlighting outdoor activities, the bustling art scene, and a low tax structure helping it to reach a top ranking. The publication also highlighted the relative affordability, fair weather, multiple year-round creative outlets, overall well-being, inclusivity and abundance of public land. Reno was judged as a transformative region, undertaking initiatives to increase inclusivity and accessibility all while attracting Fortune 500 companies like Amazon and Tesla.
Outside examined urban areas nationwide with a population up to 500,000 and millions of surveys were scoured to assess the best urban areas for well-being. Researchers also looked in to house and rental prices as well as general walkability. Reno joins others on the list including Wilmington, New Orleans, Cincinnati, Charlottesville, Hood River, Minneapolis, Glenwood Springs, Harrisburg, and Plano.
Below is the excerpt from Outside Magazine:
Reno, Nevada
Population: 273,448
Median Home Price: $550,000
Median Rental Price: $1,531
Percentage Parkland: 5
Percentage of Residents Who Live Within a Ten-Minute Walk of a Park: 76
Walk Score: 40
Bike Score: 83
Municipal Equality Index Score: 100
Demographics: 60% white; 23% Latino; 7% Asian; 3% Black; 7% other
Once known for gambling and easy divorces, Reno is now a modern boomtown, with a whitewater park, multiple climbing gyms, a monthlong summer arts festival, a number of craft breweries, and urban art installations handed down from Burning Man, the late-summer gathering in the Black Rock Desert 140 miles north. The Biggest Little City in the World's ample public land and mountain vibe make it a fun town for a populace hankering for just those qualities.
A former golf course became the Sierra Vista Mountain Bike Park, where a new trail suitable for adaptive cyclists opened this year. The Tahoe-Pyramid Trail is over 80 percent complete and will follow the Truckee River 114 miles between Lake Tahoe and Pyramid Lake. And the new Reno Public Market, once a run-down strip mall, was reimagined as a food court with 17 food vendors, Pilates classes, and live music.
"Reno has changed so much," says resident Sara Holm, director of studies and diversity at the Lake Tahoe School. "You can run through a county park with sheep grazing, go backcountry skiing, or see a touring Broadway play."
The city hosts an annual Pride celebration, and the relatively affordable cost of living (and no state income tax) is a major draw; companies with an outdoor bent have found a receptive community. A Patagonia outlet in the hip Midtown neighborhood and the company's distribution center employ over 680 people, and a growing number of major companies like Amazon and Tesla have set up shop.
Come winter, the chutes of Mount Rose are about 30 minutes away. Also nearby is the nonprofit, city-owned Sky Tavern, a tiny lift-operated hill with a big objective: teaching kids to ski and snowboard. At Nevada Nordic, just off Mount Rose Highway, volunteers groom more than 20 miles of cross-country ski trails. Reno weather is mild, with an average 300 days of serotonin-boosting sunshine annually.