Downtown Reno Undergoes Economic Development Wins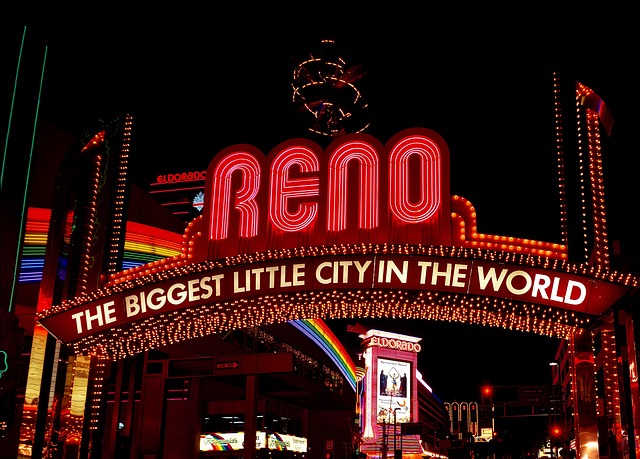 Downtown Reno is being reshaped by the Downtown Reno Partnership and has experienced major economic wins and developments in 2023. Reno has defied odds since gaining growth and momentum during the 2020 pandemic. The Biggest Little City now sits at number 4 on the Milken Institute's Best-Performing Cities of 2020.
Some of the metrics that this ranking measures includes high-tech gross domestic product and wages. Moving an enterprise to Reno gains businesses huge economic advantages due to the friendly tax structure and nature of the community. Other benefits to living in Northern Nevada include quality of life, proximity to nature, and friendly locals. And let's not forget about the glittering jewel of the Sierra: Lake Tahoe.
Downtown Reno is currently undergoing a transformation, not just in the neighborhoods but everything from events and shopping to dining and more. There are currently 1,342 residential units under construction and these units will attract 3,000 new residents. Local officials and investors are dedicated to the economic development and positive changes.
Par Tolles, CEO of Tolles Development Company, states ""To see the evolution of downtown and to see the impact of the Downtown Reno Partnership is really great. I love Reno more and more, and the momentum that we have is really exciting."
In addition to residential, more than 85,000 square feet of retail space is under construction. This upcoming space is the perfect compliment to the 1,149 businesses and 22,266 workers that are located in the central business district. The University of Nevada, Reno, (UNR) projects that 4,500 students will be attracted to Reno and this will ramp up the current population of students to 20,000. The Reno-Tahoe International Airport further predicts a 40% increase in travelers, with the added traffic equating to $3.7 million in revenue.
As the only Tier-1 university in the region, UNR offers the cream of the crop in higher education. UNR is slated as an "innovative ecosystem" and an R1 Carnegie Research University, which directly translates to the talent pool in northern Nevada. The region already boasts Tesla, Microsoft, Panasonic, Switch, Sierra Nevada Corporation, and more tech-forward companies, further positioning it as a global technology hub.
The Downtown Reno Partnership is further focused on beautifying downtown Reno. The Locomotion Plaza located at 255 N. Virginia Street was housed by 18,000 square feet of concrete. This blank space has transformed into the dynamic area it is today, featuring beautiful art pieces and murals. Central to the park is a 21-color mural by artist Brad Carney which required 250 gallons of paint, 260 volunteers, and 100 hours to complete. Funding was provided by local businesses and authorities.
Further expansions in the downtown core include the Reno Orthopedic Clinic (ROC) expansion. This $54 million, 138,000 square foot expansion is a huge investment and will double the number of exam rooms, allowing the combining of all orthopedic specialties under one roof. This is the only facility of its kind in the region and the new design will be brought to life by the Neenan Company, an integrated design-build firm in Colorado.
Chris Wesche, Design Manager of the Neenan Company, praised the project, "This cutting-edge medical campus will help ROC to continue elevating the health care experience and strengthen the Reno community."
Why do so many new businesses continue to relocate to Reno? There are incredible benefits and amenities, but it isn't just the new arrivals that believe in the area. Long-time residents and entrepreneurs are also investing in the city. Jessica Schneider, owner of Midtown's Junkee Clothing Exchange, has relocated to the core of downtown Reno. She has invested in a new concept for Junkee: a 14,000 square foot revamp of the old Woolworth's building.
As a business owner, what are some of the reasons to move to Reno? There are exciting things happening every day and every year the city evolves. The urban core is "growing up", moving away from the reputation of gaming and casinos and towards an everyday neighborhood. Reno-Tahoe offers a welcoming, small-town vibe, excellent tax climate, innovative schools, four mild seasons, and the breathtaking Sierra Nevada mountain range. Reno to Tahoe takes anywhere from 30 to 45 minutes by car, depending on where you are in the area.
Reno is a true haven for the many employees that come along. With its humble roots, there's a reason Reno has the infamous title of "The Biggest Little City" – because the city has the amenities to keep most people happy while still feeling like you know your neighbor. Here in Northern Nevada, there is a friendly vibe found in the culture that resonates throughout the region.
As you are on the hunt for a home, keep in mind the beautifully forested community of Montrêux Golf & Country Club, a private gated golf course community with so much more to offer than golf. This gated community of luxury custom homes surround the 18-hole, Jack Nicklaus Signature par 72 course, a world-class Clubhouse, walking trails, tennis and sport courts, pool and spas, Fitness Center, and much more. Parc Foret is still offering available homesites and resale homes within the gates – contact us today to see what's on the market.
10 Nevada Tax Benefits:
No income tax
No tax on pensions
No tax on social security
No tax on estate or inheritance
Low property taxes
No gross receipts tax
No franchise tax
No inventory tax
No tax on issuance of corporate shares
No tax on sale or transfer of shares
Nevada Tax Benefits for Retirees:
No tax on retirement income
No tax on pensions
No tax on social security
No tax on estate or inheritance
Low property taxes