Tofu House Gives Reno a Taste of Korean Culture
Written By: Farah Vitale
Have you tried Tofu House yet? The new Korean restaurant on East Moana Lane is already a hit in Reno; it has only been open for two months, but its unique menu is drawing in crowds. This family-owned restaurant is friendly and comfy with traditional Korean decorations including framed Korean kites and stencils of Korean masks on the walls.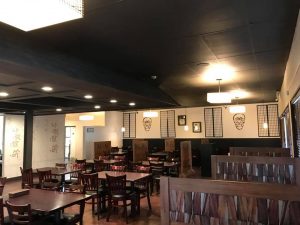 Tofu House's menu is very diverse and authentic, unlike any other in town.
The dishes on the menu are classically made and stay true to true Korean cuisine. There is a variety of textures and flavors to choose from. There are soft tofu soups, Korean BBQ, noodle dishes, squid, oysters and more.
Spicy Pork Bulgogi BBQ – spicy pork with mushroom, scallion, onion on the hot plate.
Spicy Stir-fried Squid – Stir-fried squid with mushroom, scallion, onion, zucchini, jalapeno and noodle on the side.
Naengymeon Cold Noodle Soup – Chewy arrowroot noodle with pickled radish, cucumber, sliced beef, boiled egg in cold beef broth.
Cold noodle dishes are a staple in Korean cooking, and there are many dishes to choose from along with unique combo plates. The menu also features Somaek. It's a mixture of Soju and Maejku (beer), popular in South Korea. It's a special celebration drink in Korea. The ratio is 70% beer and 30% Soju. The restaurant is located at 294 E. Moana Lane, in the Independence Square center. The hours are 11 a.m. to 9 p.m. Tuesday through Sunday.
---
Follow Parc Forêt on Facebook, Pinterest and Instagram. Stay up to date on all things outdoors, as well as Montrêux events and the Reno-Tahoe area! For real estate inquiries, stop by the beautiful Montrêux Welcome Center at 16475 Bordeaux Dr.  or call us at 775.849.9444. The Welcome Center is open 7 days a week, from 9:00 am – 5:00 pm.