Burgerim is Coming from Israel to Reno
Written By: Farah Vitale
Good news, Burgerim is coming to Reno! The popular restaurant chain that started in Tel Aviv, Israel, will be making is debut in Reno soon. Burgerim specializes in mini burgers that you can customize. The new Reno location will open at 254 W. First St. in the Riverwalk District.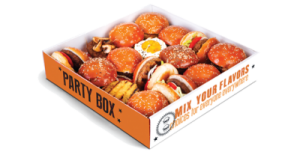 Making your own creation at Burgerim adds an element of surprise to every meal.
Each time you go to Burgerim, try something different and mix up your dining experience. The mini burgers are 2.8-ounces so customers can purchase the mini burgers in sets of two, three or even 16. You can choose from three buns, five sauces, 10 patties and nine toppings.
Patties range from Beef, turkey, chicken, lamb, chorizo, salmon, Merguez, Wagyu beef, veggie and dry-aged beef.
For toppings you can choose from: Pineapple, jalapeño, avocado, bacon, grilled onions, sautéed mushrooms, sunny-side up egg, American cheddar, and American cheese.
For sauces you can choose from: House Sauce, ketchup, mayo, mustard and BBQ.
There are hundreds of flavor combinations to try. There's everything from Wagyu beef and pineapple to veggie and a sunny side up egg. They also provide alternatives to suit your dietary needs such as vegetarian, vegan and gluten free will be coming soon.
The menu doesn't stop there. They also serve chicken wings, salads, sandwiches and on the side, fries and onion rings. This will definitely be a place to put on your dining bucket list. Stay tuned for an opening date!
---
Follow Parc Forêt on Facebook, Pinterest and Instagram. Stay up to date on all things outdoors, as well as Montrêux events and the Reno-Tahoe area! For real estate inquiries, stop by the beautiful Montrêux Welcome Center at 16475 Bordeaux Dr.  or call us at 775.849.9444. The Welcome Center is open 7 days a week, from 9:00 am – 5:00 pm.