Strange Brew Fest is Coming
Written By: Farah Vitale
Get your tickets in advance for Strange Brew Festival at the Brewer's Cabinet. It's a fun event full of interesting beers unlike any you've ever tried before. The creations are unique and have an unexpected and uncommon combination of flavors. A portion of the proceeds from the event will benefit "The Reno Rebuild Project", a small business community scholarship fund made by local business owners. The event will be held on Saturday, May 19 from 3 p.m. to 7 p.m.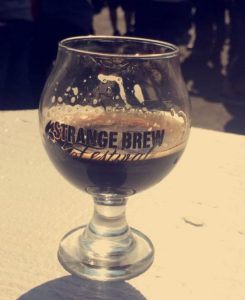 Enjoy beer made by 20 local breweries, some made exclusively for the festival.
So who's on the list of brewers this year? It includes: The Brewer's Cabinet, Fifty Fifty, Drakes Brewing, BJ's., Lead Dog, Great Basin Brewing Co., Sierra Nevada Brewing Co., Stone, IMBIB, Under The Rose (UTR), Lagunitas, The Depot, Pigeon Head, Brew Brothers, Mammoth Brewing, Alibi, Shoe Tree, 10 Tor Brewing and Distilling (FORMERLY Whipple Brewing and Distilling Co.), Sudwerks, and Silver Peak. The beer selection will be coming soon.
This is one of my favorite Reno events because everything you try will blow your mind. My personal favorite was a "PEZ" candy beer made by Brasserie Saint James in the 2015 festival. Along with one of a kind beer, Strange Brew will have live music from local bands and tasty BBQ food. The pre-sale tickets are $55 and will go up to $65 at the beginning of May. If you're always on the hunt for new beer to try then this is an event for you.
---
Follow Parc Forêt on Facebook, Pinterest and Instagram. Stay up to date on all things outdoors, as well as Montrêux events and the Reno-Tahoe area! For real estate inquiries, stop by the beautiful Montrêux Welcome Center at 16475 Bordeaux Dr.  or call us at 775.849.9444. The Welcome Center is open 7 days a week, from 9:00 am – 5:00 pm.