Blueprint Conference in Reno Trying to Gain More Tech Companies
Written By: Farah Vitale
The Venturebeat Blueprint Conference brought together some of the top people in technology and innovation from all over the world. The conference was at the Nevada Museum of Art on March 6th. Since Reno has been transforming into a popular place to live, more tech companies are gaining interest. Reno has gone from high unemployment and a high foreclosure rates to a high ranking city.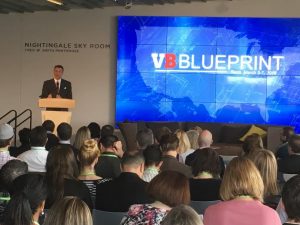 Reno is a success story and tech companies want to provide anything they can contribute to the city's growth.
What are some of the best selling points of Reno? There is only a 15-minute average commute, no state income tax, and Reno is ranked as one of the top ten places to live by Livability. The only concern for the tech companies is getting skilled workforce that they need here.
Sandoval discussed the benefits of using the Tahoe Reno industrial center to set up shop. He said, "The vision that came from there, to create an environment where you can pull a permit within a week and start going vertical, that doesn't happen anywhere else, and that's what made us special. If it's good enough for Apple, if it's good enough for Tesla, then that will be something they have to look at."
So far, the tech leaders are paying attention to what is of value in Reno. They want to see what they can bring to Reno, so the Blueprint conference connected them to the community.
---
Follow Parc Forêt on Facebook, Pinterest and Instagram. Stay up to date on all things outdoors, as well as Montrêux events and the Reno-Tahoe area! For real estate inquiries, stop by the beautiful Montrêux Welcome Center at 16475 Bordeaux Dr.  or call us at 775.849.9444. The Welcome Center is open 7 days a week, from 9:00 am – 5:00 pm.