Lake Tahoe Summer Concert Series 2018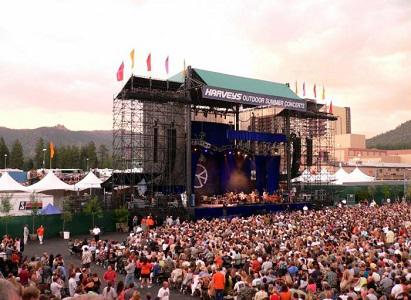 South Lake Tahoe's Outdoor Arena at Harveys heats up every summer with music and fun, and this year it continues! This year's series kicks off June 16th with Slighly Stoopid.
Music returns to Lake Tahoe this summer with 13 different artists headlining at Harveys outdoor arena. Concerts for this year's summer series run June to early September featuring popular artists of all genres. Lake Tahoe's Outdoor Arena at Harveys is surrounded by towering mountains and beautiful landscapes – making it the ideal location for music filled summer nights. This year marks Harveys 17th season for holding the summer concert series, which began in 2002 after the Harveys and Harrah's Lake Tahoe merger. Each show has the capacity of about 9,500 attendees, so don't miss out!
Popular artists featured during this year's series include:
Kenny Chesney – July 3
Pitbull – July 13
Keith Urban – July 21 & 22
Luke Bryan – July 25
Chris Stapleton – July 26
Charlie Puth – August 18
Dave Mathews Band – September 7
Tickets for all shows are being sold through TicketMaster.
Lake Tahoe's north shore is also heating up with music, offering free weekly concerts for local artists. More information for 'High Notes' Summer music events can be found here.
Written by: Brooke Deneen
---
Follow Parc Forêt on Facebook and Instagram. Stay up to date on all things outdoors, as well as Montrêux events and the Reno-Tahoe area! For real estate inquiries, stop by the beautiful Montrêux Welcome Center at 16475 Bordeaux Dr.  or call us at 775.849.9444. The Welcome Center is open 7 days a week, from 9:00 am – 5:00 pm.