Interbike Moves to Reno-Tahoe
Written By: Farah Vitale
As of 2018, Interbike will be held in Reno and Lake Tahoe! The largest cycling trade show in the United States is moving from Las Vegas to Reno for a bigger financial impact. On top of that, Reno is a mix of world-class venues, a variety of hotels, the OutDoor Demo, amazing convention center and intimate setting for the celebration. Let's not forget the booming economy with Tesla, Google, Apple and Amazon. It's the perfect spot.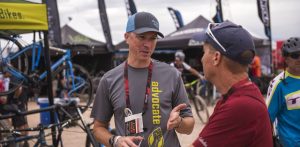 Next year, Reno's Interbike week will offer more than ever before.
With it's new name 'Interbike Marketweek,' it will start off with a consumer cycling festival. Next will be the OutDoor Demo which will turn into a trade show. The first two events will take place at the Northstar California Resort. With unmatched scenery, it's a great location choice. The Reno-Sparks Convention Center will hold the trade show.
Interbike also wants to educate people on cycling as a well! They will be providing educational content with key speakers and presenters before the show opens each day at 10 am. Everyone gets to gather to celebrate, educate and conduct the business of cycling. It's the perfect opportunity to start your day by networking with fellow retailers and enthusiasts.
Interbike also features more than 1,400 exhibitors from all areas of the cycling industry. This includes bikes, components, apparel, nutrition, footwear, accessories and more. They have many categories represented on the show floor. You can grow your business by expanding product-lines and offer the latest innovations in cycling. For more info, check out the 2016 Exhibitor list. This year the last Las Vegas Interbike week held Sept. 20th -27th.
---
Follow Parc Forêt on Facebook, Twitter, Pinterest and Instagram. Stay up to date on all things outdoors, as well as Montrêux events and the Reno-Tahoe area!
For real estate inquiries, stop by the beautiful Montrêux Welcome Center at 16475 Bordeaux Dr.  or call us at 775.849.9444. The Welcome Center is open 7 days a week, from 9:00 am – 5:00 pm.