Homegrown Gastropub Joins Midtown
Written By: Farah Vitale
The food truck Homegrown Gastropub is turning into a new restaurant in Midtown! The space at 719 S. Virginia St., formerly occupied by the original Sup location 10 years ago, will continue to stay in the food business. Midtown Eats used to occupy the spot and most recently, Midtown Tacos. They will be renovating and expanding the Homegrown Gastropub to include copper ceilings, brass chandeliers, a re-fashioned bar, and new seating with a total of 100 seats.  The front of Homegrown Gastropub opens in September and the full restaurant comes online two to three months later. They are selling their food truck for a fun eatery.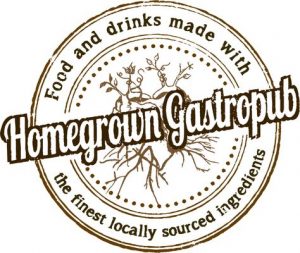 The Homegrown Gastropub features comfort food made with local ingredients.
The menu will have American food made with local, sustainable and organic ingredients, including antiobiotic- and hormone-free meat. Building relationships with farmers is a new trend for local restaurant owners. It also helps them build a strong client base and keeps the community better connected. Great Basin Community Food Co-op has helped Gastropub in doing this.
The pub will also use ingredients from DROPP, the food co-op's distribution program for area farmers, to serve cocktails! In  the basement they have a house wood-fire oven with a gas option. The gas option is for baking bread in the morning then they switch to high for wood fire pizzas. A win-win. The Homegrown Gastropub will serve breakfast, lunch and dinner. They are also expecting to hire about 25 to 30 people for the restaurant. Email your resumes to homegrowngastropub@gmail.com.
---
Follow Parc Forêt on Facebook, Twitter, Pinterest and Instagram. Stay up to date on all things outdoors, as well as Montrêux events and the Reno-Tahoe area!
For real estate inquiries, stop by the beautiful Montrêux Welcome Center at 16475 Bordeaux Dr.  or call us at 775.849.9444. The Welcome Center is open 7 days a week, from 9:00 am – 5:00 pm.