Get Ready for the Space Whale!
Written By: Farah Vitale
The Space Whale will soon be in downtown Reno! It's a 50-foot-tall glass and steel sculpture, This 50-foot-tall glass and steel sculpture,  shown at Burning Man in 2016, will be dedicated downtown at the Reno City Plaza on Tuesday, Aug. 8, at 8:15 p.m. This is exciting news for the City of Reno, as more and more art continues to fill up our streets. As a matter of fact, the city has already made some great strides to make Reno more art-centric as a whole.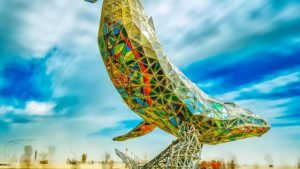 The City staff have been working with artist Matt Schultz for the past few weeks to install the Space Whale sculpture.
August 2-3, Virginia Street from 1st to Mill was closed for the installation of this incredible piece of art. The sculpture is in place of the the footings made for the Portal of Evolution sculpture. Finally the city finished installing on Monday, Aug. 7th. Accordingly, the city council has approved a year-long lease for the Space Whale. Also, there is cost limit of $64,086 to be funded by the Room Tax Fund. This fund is for things that provide a tourism amenity or help increase tourism.
 Burning Man has been making it's way into the community of Reno and we have no complaints. The humpback whale represents the need for environmental balance and space travel. But I have to say this sculpture is one of my favorites and it is sure to add more than a special touch to the Reno City Plaza and downtown as a whole.
---
Follow Parc Forêt on Facebook, Twitter, Pinterest and Instagram. Stay up to date on all things outdoors, as well as Montrêux events and the Reno-Tahoe area!
For real estate inquiries, stop by the beautiful Montrêux Welcome Center at 16475 Bordeaux Dr.  or call us at 775.849.9444. The Welcome Center is open 7 days a week, from 9:00 am – 5:00 pm.