Enjoy a Halloween Full of Spooky Events
Written By: Farah Vitale
Halloween is around the corner and there are many ways to spend your month of October including "Halloweekend."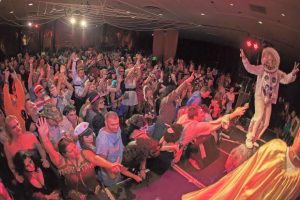 Here are some scary Halloween parties and events you can't miss:
39th Annual Freaker's Ball – Get dressed up and enjoy a creepy night full of dancing in Tahoe! There will be $10,000 in cash and prizes, costume contest, go-go dancers, music from DJs, and drink specials all night. The 39th annual event is Oct. 28th at the MontBleu at 8 p.m. Tickets are $30 in advance, $35 the week of the event, and $40 day of event. Get creative with your costume and enjoy a night of partying!
A Wicked Wine Walk – October 21st enjoy the Wine Walk in costume! Sip and wander downtown with the witches, vampires, and other creatures for a fun Halloween event. To join, buy a wine glass on the day of for $20, grab a map and start wine tasting. It sounds like a perfect way to celebrate. Cheers!
Virginia City Paranormal Investigation – Spend a haunting evening with the ghosts of Virginia City! If you have watched Ghost Hunters, here is your chance to put your skills to use! You will have the chance to investigate two locations on October 27th and 28th from 8 p.m to 11 p.m. There will also be ghost tours available twice a night from 6 p.m. to 8 p.m. on the 26th, 27th, and 28th. Sign up for a ghost tour and dinner at the Gold Hill Hotel on the 16th and 30th. You can call 775-815-1050 to make reservations.
---
Follow Parc Forêt on Facebook, Twitter, Pinterest and Instagram. Stay up to date on all things outdoors, as well as Montrêux events and the Reno-Tahoe area!
For real estate inquiries, stop by the beautiful Montrêux Welcome Center at 16475 Bordeaux Dr.  or call us at 775.849.9444. The Welcome Center is open 7 days a week, from 9:00 am – 5:00