Sprouts Framer's Market is Open for Business
Written By: Farah Vitale
The new Sprouts Farmers Market is open on South Meadows Parkway! The store has 18,000, products (many of them organic) that range from produce and meats to vitamins and supplements. There is also prepared foods and packaged goods. The best part about shopping there? All of the awesome samples!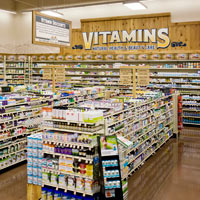 Sprouts Farmer's Market allows you sample anything except vitamins, beer and wine.
They have a yes policy, and they want their customers to know what they're buying. Sprouts is growing, with more than 275 stores in 15 states. Since the store has so many options, especially healthy and organic, people are loving it. Sprouts also caters to people on-the-go.  The store includes prepared foods that are packaged such as sandwiches, salads, and protein snack packs composed of nuts, meats and cheese. They are available on the "market corner" aisles. There is also a panini, wraps and build-your-own sandwiches station!
As Sprouts is known for promoting health and wellness, the Reno store participates in Essential 4. It's a signature wellness program that recommends four essential supplements for better health: multi-vitamins, omega-rich oils, probiotics and superfoods. Sprouts has a very extensive selection. Members of the Sprouts vitamin team are trained to help their shoppers add Essential 4 into their diets.
But produce is the main part of the store, and it's a Farmers Market style so you can see, feel and touch. On top of that, there's a Recharge-Relax room with free Wi-Fi and smartphone recharging. If you've purchased some prepared foods, you can enjoy a nice lunch break!
---
Follow Parc Forêt on Facebook, Twitter, Pinterest and Instagram. Stay up to date on all things outdoors, as well as Montrêux events and the Reno-Tahoe area!
For real estate inquiries, stop by the beautiful Montrêux Welcome Center at 16475 Bordeaux Dr.  or call us at 775.849.9444. The Welcome Center is open 7 days a week, from 9:00 am – 5:00