Thanksgiving Side Dishes You Have to Try
Written By: Farah Vitale
Thanksgiving is coming up! We found some of the so-called proclaimed "best side dishes of all time" for Thanksgiving dinner. Try them out, we think they will be well worth the shot!
Chanterelle and Green Bean "Un-Casserole"
This is a fresh take on the Thanksgiving green bean casserole, without the processed ingredients!
Ingredients:
1½ to 2 pounds fresh green beans, tipped and tailed
Olive oil
1 large shallot, finely diced
1 pound chanterelles, cut in ¼-inch dice
¼ cup cream
Salt and freshly ground pepper
¼ cup crème fraiche
½ teaspoon sugar
1 tablespoon balsamic vinegar
1/3 baguette or equivalent sliced French bread
1 tablespoon minced Italian parsley
Bring a pot of salted water to a rapid boil. Create an ice water bath in a large bowl. Add beans to boiling water and blanch for 2-3 minutes. Quickly transfer to ice water bath and let them cool. Remove and drain to dry and reserve.

In large saute pan, heat 1 tablespoon oil over medium-high heat. Add the shallots and cook slowly until they begin to caramelize, about 4 minutes, then add the mushrooms and 2 tablespoons olive oil. When the mushrooms release their liquid and begin to turn golden, add the cream. Season to taste with salt and pepper.
When the mixture begins to thicken, about 3 minutes, add the crème fraiche, sugar and balsamic and continue to cook until the sauce is thickened to a consistency similar to chutney. Transfer to a bowl and season again with salt and pepper to taste.
Heat oven to 350 degrees.
Slice bread and arrange on a sheet pan. Brush lightly with olive oil and sprinkle with salt and pepper. Toast until hard and golden brown. When bread has cooled slightly, grind it in a food processor to a coarse crumb.  Combine with parsley and set aside.
Reheat the green beans by sautéing in olive oil until warm and glossy. Arrange beans, all facing the same direction, on a platter. Spoon warm mushroom mixture in a row down the center of the green beans.  Finally, sprinkle the breadcrumbs around the perimeter of the beans and serve.
Ultimate Thanksgiving Mashed Potatoes
This Thanksgiving mashed potato recipe creates perfectly fluffy potatoes to add in extras.
Serves 6
Ingredients:
2 pounds russet potatoes
½ cup heavy cream
4 ounces cream cheese, cut into chunks
4 tablespoons (½ stick) salted butter
1½ teaspoons coarse sea or kosher salt
1½ teaspoons coarsely cracked black peppercorns
½ cup finely chopped fresh chives
Peel the potatoes and give them a good rinse. Quarter them, place them in a medium pan and cover them with cold water. Bring to a boil over medium-high heat. Lower the heat, cover the pan and gently boil until the potatoes fall apart quite easily when pierced with a fork, 20 to 25 minutes.
Meanwhile, pour the cream into a small saucepan and add the cream cheese, butter, salt and pepper. Simmer over medium heat, whisking occasionally, until the cream bubbles, the cheese softens and becomes smooth, and the butter melts, 5 to 8 minutes. Keep warm over very low heat until the potatoes are done.
Drain the potatoes in a colander and give it a gentle shake to remove excess water. Return the potatoes to the pan. Dry them over low heat until the surface appears dry, stirring occasionally so they don't stick.
Working in batches, transfer the potatoes to a ricer and press them through into a serving bowl. (Or use a potato masher and fluff them very thoroughly with a fork when completely mashed.) Pour the pepper-speckled cream over the potatoes and sprinkle with the chives. Fold together with a spatula just until the liquid is incorporated. Don't overmix it. Serve hot.
Gratin of Spinach and White Cheddar
Serves 12
This Thanksgiving gratin is all about the cheese.
Ingredients: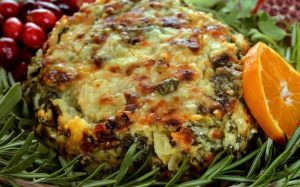 4 tablespoons (1/2 stick) unsalted butter
2 large onions, chopped
1/4 cup all-purpose flour
1/4 teaspoon grated nutmeg
1 cup heavy cream
2 cups milk
1 teaspoon Dijon mustard
1 1/2 cup grated white cheddar, divided
3 pounds fresh spinach or five 10-ounce bags frozen, chopped spinach, defrosted
1 cup grated Parmigiano-Reggiano, divided
2 1/2 teaspoons kosher salt
1 tablespoon lemon juice
1. Heat oven to 425 degrees.
2. In a large, heavy skillet, melt butter over medium heat. Next add in onions and saute until translucent, about 10 minutes. Then add flour and nutmeg and cook, stirring, for 2 minutes more. Add cream and milk; cook until thickened, 2 to 3 minutes. Transfer cream sauce to a bowl; stir in mustard and 1 cup cheddar.
3. If using fresh spinach, blanch it in boiling water for a minute. Transfer to an ice bath, then drain the spinach in a colander. Press with a plate or can to squeeze out as much water as possible, before chopping and adding the spinach to the cheese sauce. (If using frozen spinach, use the same method to remove excess water before adding spinach to the sauce.) Add 1/2 cup Parmigiano-Reggiano; mix well. Stir in salt and lemon juice.
4. Transfer spinach to a buttered gratin dish. Sprinkle remaining 1/2 cup Parmigiano-Reggiano and 1/2 cup cheddar on top. Bake for 20 minutes. Then broil for 3 more minutes, or until top is lightly browned and bubbly. Serve immediately.
---
Follow Parc Forêt on Facebook, Twitter, Pinterest and Instagram. Stay up to date on all things outdoors, as well as Montrêux events and the Reno-Tahoe area!
For real estate inquiries, stop by the beautiful Montrêux Welcome Center at 16475 Bordeaux Dr.  or call us at 775.849.9444. The Welcome Center is open 7 days a week, from 9:00 am – 5:00