Smiling With Hope Pizza Helps People With Disabilities
Written By: Farah Vitale
A pizza place in Reno is employing people with disabilities. Since they have a hard time finding work, Smiling with Hope pizza parlor is giving them a job opportunity to help them learn life skills. The owner of the Parlor, Walter Gloshinski is a former teacher and has been doing these programs for the last 22 years. He has been creating award winning pizzeria/bakery businesses in CA/TX/OH public schools that trained students with disabilities for competitive work.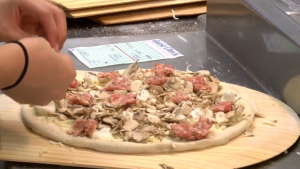 Smiling With Hope Pizzeria has gathered international recognition for their program.
The pizzeria is currently employing and training six people with Developmental Disabilities. Walter and his wife work together on this project and they both have Masters Degrees in their fields. Walter was a former school teacher and didn't like that kids with disabilities were being taught at 2nd and 3rd grade levels when they were smart enough to be taught at higher levels. He decided to create an opportunity for change and provide them with skills so they can become a part of the working world and compete for jobs. He knows that while working for him, these kids can learn things they cannot learn in school.
Walter and his wife have future goals to become a non-profit organization. They want to provide safe housing, pension plans and paid vacations for employees. They also manufacture Max's T- Biscuits for Dogs, and healthy chocolate chip cookies for public school cafeterias that meet the Federal Public School Wellness Laws. He has already created and sold both with great success at the Smiling with Hope Bakery.
---
Follow Parc Forêt on Facebook, Pinterest and Instagram. Stay up to date on all things outdoors, as well as Montrêux events and the Reno-Tahoe area! For real estate inquiries, stop by the beautiful Montrêux Welcome Center at 16475 Bordeaux Dr.  or call us at 775.849.9444. The Welcome Center is open 7 days a week, from 9:00 am – 5:00 pm.