New Brewery-Distillery in Reno
Written By: Farah Vitale
The Mill Street Still and Brew brewery-distillery is one of the few companies across the country to combine the creation of both beer and spirits in one spot. It is the second for Reno, but the only distillery in Nevada to use a vacuum distillation process. The head, Melissa Test originally started brewing for Burning Man five years ago. For the playa, easy drinking is much is better than heavy beer drinking.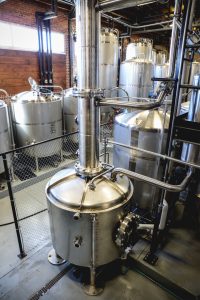 The new brewery-distillery makes ales and lagers with custom equipment and software.
Mill Street Still makes their brews and ales more traditionally while still using custom equipment which makes it easier and to set them apart. So what does vacuum distillation do? It distills the alcohol under reduced pressure, which in turn, allows the alcohol to boil at a lower temperature.  Lowering the temperature prevents compounds and oils from burning, which can cause harsher flavors. Mill Street distills their vodka at room temperature as opposed to a very high heat. They finish their drinks through centrifuge to protect the flavor and not add chemical refining agents or enzymes. In result, the vodka tastes much smoother. They will soon do the same with gin and whiskey.
They also use as many local ingredients as possible to help build the agriculture and brewing economy. They want to increase the demand in Nevada for local corn, grain, and hops for breweries. Mill Street Still and Brew is the 31st brewery and eighth distillery in the Northern Nevada-Tahoe region. It's located at 490 Mill Street.
---
Follow Parc Forêt on Facebook, Twitter, Pinterest and Instagram. Stay up to date on all things outdoors, as well as Montrêux events and the Reno-Tahoe area!
For real estate inquiries, stop by the beautiful Montrêux Welcome Center at 16475 Bordeaux Dr.  or call us at 775.849.9444. The Welcome Center is open 7 days a week, from 9:00 am – 5:00 pm.