Where to Dine for Valentine's Day
Where will you be spending date night for Valentine's Day? If you're not sure, here are a few local ideas to make your night romantic and tasty.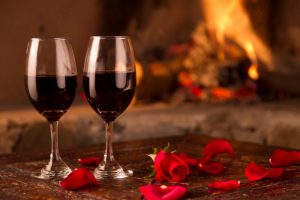 Take your significant other to one of these places for a special Valentine's Day.
Wild River Grille and the River Room – Head to the Wild River Grille for a four-course gourmet Valentine's Day dinner for two, $125 per couple. There are many entree choices and includes a glass of champagne and a red rose. The Wild River Grille and the River Room are in Reno's historic Riverside Hotel building, next to the Truckee River at 17 S. Virginia Street. For reservations, call (775) 284-7455.
Valentine's Day at the Grand Sierra Resort – There are many Valentine Day specials on Restaurant Row inside the Grand Sierra. Check out Charlie Palmer Steak, Briscola, The Grand Buffet, Cantina and Grand Cafe. Visit the Grand Sierra website for details on menus, times and costs. The Grand Sierra is at 2500 East Second Street in Reno. For more information or to make reservations, call (775) 789-2269.
Valentine's Day Dining at the Atlantis – There will be a tasty Seafood Spectacular Champagne Dinner at Toucan Charlie's Buffet & Grille. Also, Atlantis Steakhouse, Bistro Napa, Purple Parrot, Manhattan Deli, and Cafe Alfresco will all be featuring Valentine's Day specials. Visit the website for costs and menu details. The Atlantis is located at 3800 S. Virginia Street in Reno. Call (775) 824-4411 for reservations and more information.
---
Follow Parc Forêt on Facebook, Pinterest and Instagram. Stay up to date on all things outdoors, as well as Montrêux events and the Reno-Tahoe area! For real estate inquiries, stop by the beautiful Montrêux Welcome Center at 16475 Bordeaux Dr.  or call us at 775.849.9444. The Welcome Center is open 7 days a week, from 9:00 am – 5:00 pm.