Best Places to Visit in Reno as Nevada Reopens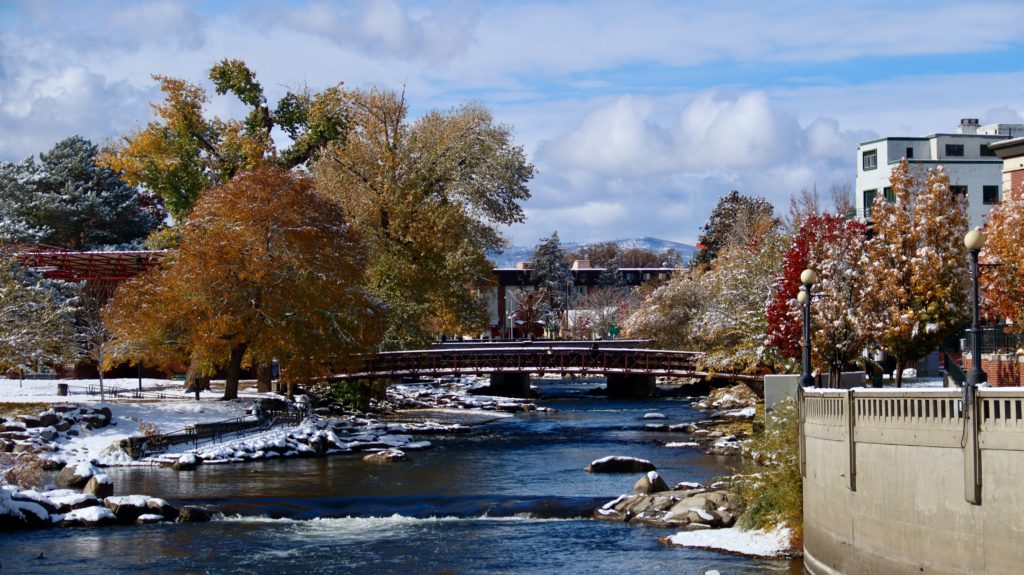 Things in Northern Nevada are slowly reopening, and more COVID-19 restrictions being lifted. With Nevada's reopening plan to reach it's final stage on May 1, the return to "semi-normal" is much closer than we think. Moving to a new city during a pandemic can be extremely difficult, but with reopening just around the corner we would like to share some of our favorite places to visit.
Hot August Nights
Even if you don't live in Reno, there's a good chance you've heard of Hot August Nights. Thousands of people come to the Biggest Little City to check out the classic cars and rock and roll music. More than 5,0000 vehicles from the golden era of design are showcased in Virginia City and Reno. People come to check out the headline entertainment, nightly cruises, drag races and hundreds of vendors.
The aim of Hot August Nights was to fill a void in tourism in Reno during the month of August and to raise money for local charities. The first concert was held in the Convention Center parking lot where most hadn't danced to "that" music, to a live band, under the stars, since high school. The memories flooded back and so did the desire for more! The first year of Hot August Nights was more of a nostalgia event than a car event. But it was the car parade that was the highlight of the Event for the participants and the crowds who thronged Virginia Street. The car owners were thrilled to show off their cars. They'd never had so many people "oohing and aahing" over their "works of art". It was a proud moment for classic car owners.
Rib Cook-Off
Do you love ribs? Well, here's your chance to try the Best in the West Nugget Rib Cook-Off, an annual event held Labor Day weekend in Sparks that was canceled last year due to COVID-19. Twenty-plus crews come together and face off to see who makes the best barbecue.
Often referred to as the Super Bowl of rib competitions on the national BBQ competition circuit, the annual Labor Day Weekend event spans more than 6 city blocks in the heart of downtown Sparks, Nevada. Two dozen of the country's best BBQ teams competed for nearly $20,000 in prize money plus prestigious bragging rights! It is estimated that 350,000-400,000 BBQ enthusiasts take part of the festivities each year consuming more than 250,000 pounds of mouthwatering ribs during the 6-day festival.
Food Truck Fridays
Who doesn't love good food? Every Friday during the summer, dozens of food trucks line up at Idlewild Park with live music. The event, pre-pandemic, starts in May and goes through September, taking place every Friday from 4-9 p.m.
Reno Rodeo
Good news! The Reno Rodeo is expected to return this summer with limited tickets available. The 10-day event is one of Reno's longest-running special events. The event includes a rodeo competition, a carnival, a kick-off concert and a Western marketplace. The event features attractions for all ages.
The "Wildest, Richest Rodeo in the West," the Reno Rodeo is celebrating 100 years of wild west family fun. Our 10-day rodeo has stretched into 11 with the addition of a kick-off concert sponsored by KBUL Radio. The Reno Rodeo is a PRCA (Professional Rodeo Cowboys Association) sanctioned sporting event and is a non-profit organization made up of over 900+ volunteers.
Great Reno Balloon Race
The Great Reno Balloon Race is the world's largest free hot-air ballooning event. During four days in early September, you can look up into the Reno skies and see a rainbow of hot air balloons soaring about. From its humble beginnings in 1982 with just 20 balloons, The Great Reno Balloon Race has taken flight with up to 100 balloons each year. The idea was to create an event that would keep visitors in town the weekend between the State Fair and the Reno Air Races and 39 years later, it is known as a world-renowned, and locally, a beloved community tradition.
Taking place just a few miles north of downtown Reno at Rancho San Rafael Regional Park, the event enchants both young and old with its vibrant colors and inspiring music. The Great Reno Balloon Race has won many awards over the years, including 'Best Special Event in Reno' and 'Best Special Event in Northern Nevada.' With an average of 120,000 spectators attending the event each year, the number of lives touched by the beautiful spectacle continues to rise just like the balloons themselves.
Aces Minor League Baseball
Baseball season is back and long overdue, even if it's being delayed by a month this year. Even if you aren't a baseball fan, I've heard the fireworks at the Reno Aces games are one-of-a-kind. Growing up playing softball and baseball, fireworks at the ballpark never get old.
Greater Nevada Field is not just the home of the Reno Aces, it is a venue that hosts major regional and national events with something for everyone – such as Nitro Circus Live, concerts and private parties. Open 365 days a year, it celebrates the natural beauty, adventure, cultural diversity and unique spirit of Northern Nevada.
---
Follow Parc Forêt on Facebook, Twitter, Pinterest and Instagram. Stay up to date on all things outdoors, as well as Montrêux events and the Reno-Tahoe area!
For real estate inquiries, stop by the beautiful Montrêux Welcome Center at 16475 Bordeaux Dr. or call us at 775.849.9444. The Welcome Center is open 7 days a week, from 9:00 am – 5:00.