Trending: Car Turntable for Your Luxury Home
Your custom home is missing one crucial design aspect.
Car turntables are becoming the hot new thing in luxury real estate. What was previously a feature know in dealer showrooms and a fixture of car shows, this shiny new toy has many practical and flashy advantages. From tightly planned lots to 30 car garages made to show off the luxury vehicles inside, the car turntable is what your custom home is missing.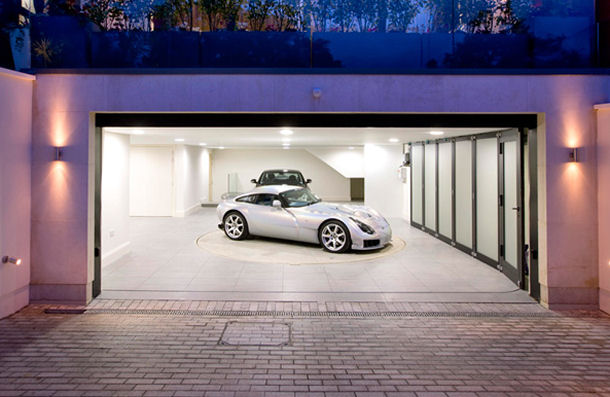 The car turntable is no new-comer to the car collector scene, both Henry and Edsel Ford had them to accommodate their car collections. In addition to these automobile aficionados, James Buchanan Duke, the tobacco magnate of Charlotte, North Carolina had a hand-turned car turntable in the basement of his mansion. This allowed him to spin his Rolls Royce to face his narrow and winding drive. Car turntables went by the wayside for a while, but the practical aspect of the technology has not, and car collectors think they're cool!
From a practical standpoint, owners of sports cars know that some driveways and garages just will not work when it comes to the strikingly low clearance of their luxury sports car. Andrew Canter of La Jolla, California is making the flashy accessory a necessity in his life. With a Ferrari 458, Aston Martin DBS and an exceedingly steep driveway into an underground garage, he needed a way to get his babies in and out safely. The solution? A hydraulic ramp designed to gradually incline and flatten at the entryway then become almost horizontal just before the turntable. The stainless steal platform, offset by white epoxy, has safety sensors that will stop the turntable if the car is misaligned and at risk of hitting a wall. This allows Mr. Canter to park his sports cars with ease and, after rotating the turntable, exit his garage without having to back out of his tricky driveway.
Collectors items are perfect for these turntables, as your prized possessions are able to turn as your guests bask in the glory of your vehicle. Filmmaker Michael Bay, in his Los Angeles based home, has a car turntable with the iconic autobot "Bumblebee", a yellow 2010 Camaro, from his movie "Transformers: Dark of the Moon" rotating slowly. His high-style playroom on the lower level of his house is home to many other movie props, but the center attraction is his gorgeous yellow and black sports car. This turntable is not one for practical purposes, but solely for showing off this awesome piece of movie history.
John Thompson is the Owner and President of Carousel USA, a 15-year-old vehicle turntable company out of Irwindale, California. The company mostly sells to car dealerships, manufacturers and the military, however home installations, which run between $30,000 and $40,000, are accounting for 30 percent of revenue, and growing. "Our [residential] sales have doubled every year for the last five years…At any time, I probably have 40 to 55 residential jobs going at once," Thompson said.
Reggie Lopez, general manager of Carturner out of Vista, California, says he get requests from home owners wanting to spin all aspects of their homes, from bedrooms and living rooms to rooftops and Christmas trees. Whatever your wants and needs are, the car turntable is the boost the design of your luxury home needs.
---
Follow Parc Forêt on Facebook, Twitter, Pinterest and Instagram to stay up to date on all things design, as well as Montrêux events and what's happening in the Reno-Tahoe area!
For real estate inquiries, stop by the beautiful Montrêux Welcome Center at 16475 Bordeaux Dr. in Reno, NV or call us at 775.849.9444. The Welcome Center is open 7 days a week, from 9:00 am – 5:00 pm.