Dine at the Shore Room in the Renaissance
Written By: Farah Vitale
Have your dinner above the river this summer! The Shore Room in the Renaissance hotel downtown has an outside eating area above the Truckee river. Windows frame stretch the length of the restaurant with  a beautiful view. There are 90 seats inside and 70 to 80 seats on the terraces. Inside it is mostly grays to mimic the color of river stones and the Truckee river when it's overcast. Thick chain links made of wood cluster at one end of a stone buttress to represent steel chains that help moor ships.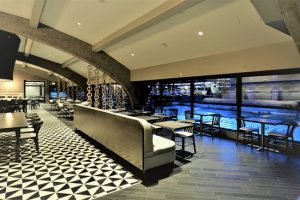 This is the Renaissance's only restaurant, so it serves breakfast, lunch and dinner.
Chef Jacob Burton's philosophy is "simple done right, no matter what time of the day it is." For breakfast, there's English muffins made from scratch, eggs Benedict with salmon belly along with other popular items. For lunch, the chef focuses on cooking everything to the perfect temperature. The Shore Room burger has an 8-ounce beef patty topped with bacon and cheddar on a house brioche bun. The bun is made with harissa, then brined overnight in buttermilk.
 Dinner is the most exciting part of the menu. The chef designed the menu into a journey sectioned off by aspects of travel. This includes Embark, Navigate, Detours and more. The dinner menu features pops of preserved mustard seed on slather lamb sliders. There's also  jumbo chicken wings spiked with berbere (an African spice blend). Another favorite is  local Flocchini sausage cooked sous vide in apple cider. Of course there's fish on the menu. So try the Alaskan halibut that sits atop panzanella croutons. You'll have to head in to give these unique flavors a try! Delish.
---
Follow Parc Forêt on Facebook, Twitter, Pinterest and Instagram. Stay up to date on all things outdoors, as well as Montrêux events and the Reno-Tahoe area!
For real estate inquiries, stop by the beautiful Montrêux Welcome Center at 16475 Bordeaux Dr.  or call us at 775.849.9444. The Welcome Center is