Brews, Fine Art & a Cargo Park
What else could be better?  Downtown Reno is in a constant state of revitalization, and the newest project, The Eddy.  This newest addition to downtown will be at the corner of Sierra Street and Island Avenue, next to the Truckee River.
This exciting new project will be the first cargo container park in Reno built as one big self-contained patio. But wait, many of you may be asking, what is a cargo container park?  Simply enough, a park made up largely of re-purposed shipping containers. You know…the kind they fill with sneakers and everything else you can imagine, and load onto trains and ships. These shipping items are being reused and molded into another functional idea for booming cities, such as Reno, NV. Our sister cities, San Francisco and Las Vegas, have already jumped on the bandwagon, having successful cargo parks for more than three years now!
The Eddy will provide an amazing view and atmosphere at all hours. This cargo park will be the it location where you can come grab a beer during the day, while also working on your laptop. This park will make you feel relaxed and uninhibited by everyday stresses in downtown Reno.  The cargo park will also be a great destination for art lovers as well. The Eddy will feature art for you to gawk at while you walk around the garden, or just sit around. The developers, Kurt Stitser and Phil Buckheart of Realm Constructors, have constructed their plans of The Eddy off of the successful San Francisco, Proxy.
 So this corner…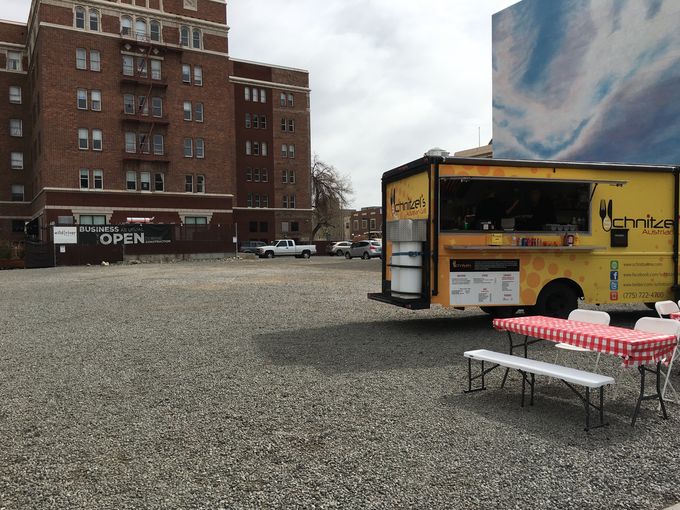 Will soon be transformed into this!
Kurt and Phil state that their goal of the Eddy is to serve beer, wine and spirits with rotating food trucks and local art installations from noon to about 6 or 8 p.m. during their five-year lease.  The Eddy will be the newest and finest place to hangout downtown, being used for special occasions and evening music shows. The developers hope to have the park up-and-running by June 1st, so daily events such as yoga, farmer's markets, music events, and art can start taking place. An event that would have been hosted in this park if it was completed by now would be the upcoming reopening of the Virginia Street Bridge on April 12th, 2016 at 11:00 am. Make sure to check out this event, as well as the opening of The Eddy in the coming months.
For more information on this unique and amazing new park coming to downtown Reno, check out "The Eddy: Future Reno beer garden, food truck park and art spot."
---
Follow Parc Forêt on Facebook, Twitter, Pinterest and Instagram to stay up to date on all things outdoors, as well as Montrêux events and the Reno-Tahoe area!
For real estate inquiries, stop by the beautiful Montrêux Welcome Center at 16475 Bordeaux Dr. in Reno, NV or call us at 775.849.9444. The Welcome Center is open 7 days a week, from 9:00 am – 5:00 pm.